How BizAcademy Changes Lives
By: Peter Chalmers (cross posted from Salesforce Australia & NZ Blog)
Think back to a time when you had a chance to impact someone's life…. Actually scratch that.. think back to a time when someone impacted your life and how that made you feel.
For the past three years I have had the pleasure of being invited to participate in the Salesforce BizAcademy program. If you haven't heard of it, BizAcademy is a program where youth from under-resourced and low-income communities get hands on experience about entrepreneurship. In Australia, we have participants from Cerebral Palsy Alliance and WorkVentures.
The program runs for a week and is intensive as the teams upskill on Salesforce and the product suite, form teams and identify a solution they want to pitch and then present to two panels on that idea.
I would be terrified doing the above and yet the BizAcademy inductees take this is their stride. Their thoughts and presentations are well formed, the collaboration in the teams is unbelieveable and their pitches were worthy of fronting Shark Tank and getting funding!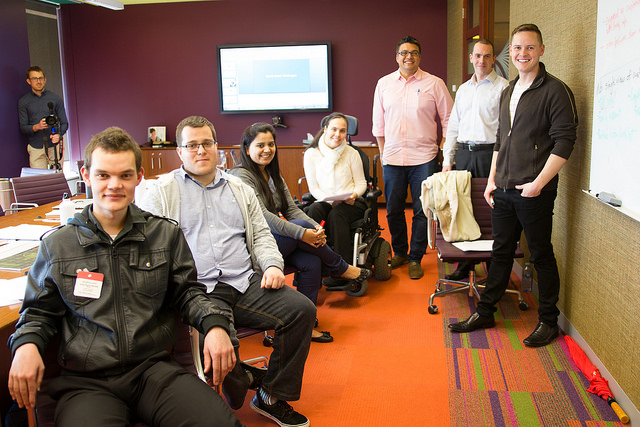 In the first year I was involved, I thought I was going to help mentor some kids and help their presentation skills, what actually happened was they mentored me. They opened my eyes and helped me think in a different way. Last years pitch, by the team that won the event, was infinitely better than any pitch I have ever seen by a Salesforce team and made me want to purchase the product on the spot.
The BizAcademy program offers the opportunity of internships where they work within the business and further enhance their skills. The downside is the internships are limited in numbers.
So why do I do this? BizAcademy is the opportunity to give back but in a small way. For me the greater opportunity is to extend on the internship program and identify and employ some fantastic talent into our business.
At Morphate we are lucky to have Dylan Jobson in our team. Dylan joined Salesforce in 2012 following the 2011 BizAcademy program. I have had the pleasure of working with Dylan several times over the past few years and I have seen him grow in each challenge that he is presented with.
I am sure that this years BizAcademy candidates will be as amazing, if not more, than the previous candidates. The challenge for the mentors is to continue to help the candidates after the program is finished by matching the Salesforce Internship program and providing an opportunity to the candidates beyond the program.
---
BizAcademy runs from 10-14 August 2015
Interested in taking on an intern? Please contact [email protected]
You Might Also Like
Higher Education
Celebrating Our San Francisco Public Schools
It's Public Schools Week, and we are celebrating the amazing educators and inspiring students that make up our local school…
Higher Education
UNGA 2022: Why the Global Conversation is More Important Than Ever
Looking ahead to this year's UN General Assembly, Salesforce.org's Chief Customer Officer Rob Acker shares why there's an urgent need…
Higher Education
A Letter to Our Customers
Marc Benioff, Chair & Chief Executive Officer of Salesforce, provides customers with a blueprint for how we're handling the Covid-19…